Times are changing. Today in China millions of children learn to play the piano, inspired by great role models such as Yundi, Yuja Wang and Lang Lang. And Chinese piano manufacturers are keeping
pace, especially the Pearl River Piano Group, where almost 500 pianos leave the factory every day.
Italian pianist Giovanni Vitaletti tells his stories with the Pearl River Piano:
"As a pianist and an artist of the Guangzhou Pearl River Kayserburg Piano CO.,LTD, I hope that Pearl River Piano continues to serve as the pathway for the development of piano industry between China and Italy, exchanging mutual learnings of culture between East and West, and strengthening communication between the people of the two countries."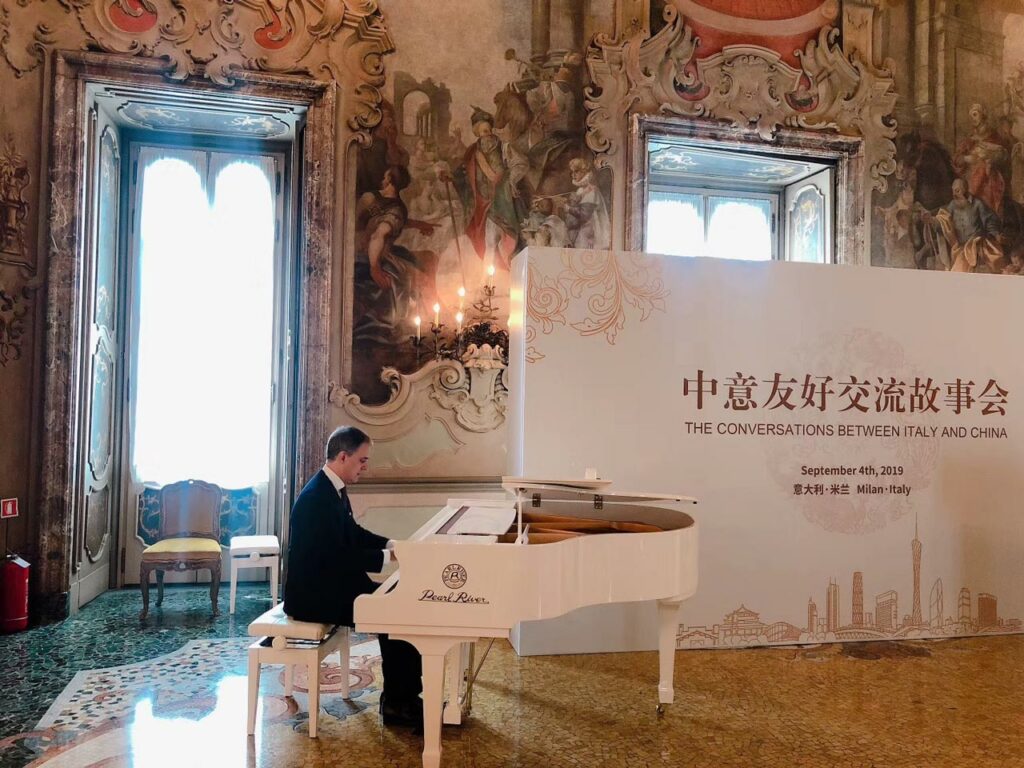 On September 4th, 2019, the Sino-Italian Symposium was officiated by Guangdong Province Government, sponsored under the Belt and Road Initiative. The initiative serves as global development strategy adopted by the Chinese government in 2013, which involved infrastructures development and investments in nearly 70 countries between Asia, Europe, and Africa. The symposium expounded upon cultural cross pollination between Italy and China and its impact on bilateral trades in the region. In Milan, the event was organized by Guangdong government news office and Guangdong films office, undertaken by Guangzhou News and Information Office.
Famed Italian pianist Giovanni Vitaletti, who is the official Guangzhou Pearl River Kayserburg Artist, performed a selection of breathtaking European and Chinese repertoire on the Pearl River piano, now the world's best selling piano and China's leading brand. Giovanni shared the stories of his connection with China through the Pearl River piano. He mentioned that his first piano was also a Pearl River upright piano, from 40 years ago!
To celebrate the 15th anniversary of the establishment of the comprehensive strategic partnership between China and Italy, the evening's keynotes focused on the continued regional exchange between the two countries. More than ten speakers from different fields of culture, economics and arts addressed the audience from a diverse perspectives, based on the fruitful achievements made by China and Italy in the past decades, which deeply illustrated the values of Sino-Italian friendship and business trades.
The conversation kicked off with Mr. Li Shaofeng, Chinese Consulates General in Milan and Executive Vice Minister of Guangdong Provincial Party News and Information Committee, followed by Mr. Bai Jie, Guangdong Province Film Office Director, and Mr. Zhu Xiaoshen, Deputy Director of Guangzhou Municipal Party News and Information Committee.
The symposium was held at the Italian National Centennial Palace, at the magnificent Grand Visconti Palace, with broadcasting support from CCTV News, Xinhua Net, Guangzhou Daily, and other major media from around the region.
The stories about pianist Giovanni Vitaletti with the Pearl River piano attracted intense interests from the participants.
Giovanni Vitaletti, famed pianist from Italy, Shared his personal experience growing up with Pearl River piano at the symposium. He said: "In 2019, 40 years after the original pearl river upright piano came to me across the ocean, I was officially appointed by Pearl River Piano Co. Ltd., as their prestigious "Kayserburg Artist", which is an honor to me. Pearl River Piano Group never forget their mission of promoting elegant music through cultural missions. As Kayserburg Artist, I started cultivating the art of piano, by spreading a series of programs through networks in Guangdong, Jiangsu, Sichuan, Guangxi, Shanxi, Hunan, Hubei, Anhui, Henan, Hebei, Shanxi, Liaoning, Shandong and other provinces across more than 30 cities in China. The program included piano concerts, master classes and workshops for both students and music educators. My wife and I are also hosts at the Italian Kayserburg International Piano Festival to provide a platform for music lovers to experience the charms of Chinese and European piano music, and to experience live concerts of such wonderful repertoire."
After sharing his personal experience, Giovanni Vitaletti performed a concert on the Pearl River piano to an attentive audience, and received a standing ovation at the conclusion of his performance.
At the symposium, conversation between representatives from both sides shared their success and their missions ahead;
"I never thought I'd work in China, but I've been at GAC Group for more than a decade now! I love Guangzhou and the Cantonese people, they are hard working, resourceful and capable."Said Marco Mario Gilardi, Chief Technology Officer at Guangzhou Automobile Group Co., Ltd. Alessandro Pacanilla, Vice President of the University of Padua in Italy, also said that Guangzhou University started collaborating with his university on research studies in Confucius and other Chinese philosophies more than 10 years ago, and the two Universities carry on such successful exchange till today. For the evening's entertainment, the organizer presented "The Legend of the Albino Serpent", one of the most popular classical folk tales in China from a thousand year ago, performed by Cantonese Opera Troops, and led by famous cantonese opera performers Zeng Xiaomin and Wen Ruqing, drawing cheers from the crowd. In addition, Chinese opera singer Tian Hai, and Diego Cloviti, an Italian opera singer, sang opera clips together, setting off another climax in the audience. Zhang Changxiao, Chairman of China-Italy Cultural Exchange and Development Center, and Ni Saijuan, Chairman of Canton Tower Wine Industry Co., LTD., also shared their stories about how they successfully connected Guangdong and Italy to promote trades and cultural exchanges.
The symposium concluded under the glorious Cantonese-Italian opera, the Pearl River Piano concert and the impactful sharing sessions between distinguished guests from both Guangzhou and Italy, the audience gathered at the Grand Visconti Palace, forging ahead to sow the seeds of future Sino-Italian trades and cultural collaboration. The audience took away with them that evening's rich culminations of mutual respects and exciting prospects presented during the symposium, in the spirit of international partnership between Guangzhou and Italy, looked forward to building a bigger and better future together.